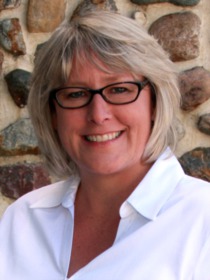 Welcome! Do you love house shopping as much as I do? Before getting started, let me introduce myself. 
My name is Holly Romanowski. I was born in Sioux Falls and grew up on the east side. I met my husband, Mike, while working together at Lewis Drug. I am an SDSU graduate from the Adveritisng program. I love kids and have two of my own. I have worked many different jobs and and had my own photography business-- but have finally found my pasion in real estate.
Through the years we have purchased and improved homes and dabbled in rentals. For fun, we'd go to open houses. I really enjoy taking a run down house and turning it into a beautiful home. Our agent and friend, David Shelton, encouraged me to become a real estate agent. It's a perfect fit.
My philosphy is to do whatever it takes to get the job done. I want to do whatever I can to make your selling and buying process as hassle-free as possible. I will focus on your needs to help you reach your goals.
Now go ahead, take a look and feel free to contact me any time. I hope to hear from you soon! 
Testimonials
Holly developed a marketing plan that resulted in our property being sold in one Day! Thank you Holly!
Neil Wollan, Sioux Falls SD, left feedback 1 months ago
Holly Romanowski handled our home sale with great professionalism and patience. From exploring the idea of selling the house to our closing date, Holly was with us every step of the way to answer questions and guide us through decisions. We will recommend Holly Romanowskiover and over again and consider her a friend for life.
Kevin and Rebecca Lampman, Sioux Falls SD, left feedback 3 months ago
As an out-of-town seller I needed someone knowledgeable about preparing the property for sale, including oversight of needed repairs. Holly did a wonderful job. Not only in preparing the property, but also in selling it, from obtaining an initial contract to subsequently moving the sale into the hands of a buyer with fewer contingencies. Her expertise was a godsend. She handled the whole matter very professionally.
Michael Thomas, left feedback 3 months ago
More Testimonials